Landscape & Hardscape Services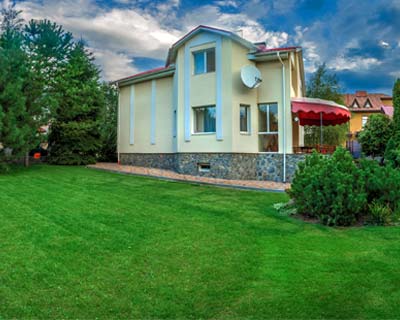 Valley Lawn & Landscape is among the most reputable landscaping businesses in Union, OR. We are known for our excellent outdoor design and aesthetic and practical constructions. As an established business, we go above and beyond to provide our clients with exceptional services. We strike the perfect blend of dependability, outstanding quality, and affordability, ensuring that you obtain value each time you engage with us. The team can assist you in developing new landscapes from the ground up or enhancing an existing outdoor space with a few elements. Our company can help you with material selection, flower, plant selection, retaining wall construction, and paver installation to improve the beauty of your outdoor area. This robust approach guarantees that the external parts of your company or house are functional, durable, and simple to maintain. Our expertise includes the design, layout, and construction of hardscape and softscapes and installing a range of decorative elements. To business and residential customers, we provide the following services.
Landscaping
We understand that you want your property's exterior spaces to make a statement, so we have skilled landscape designers on staff that specialize in creating spectacular landscape design concepts for your house. We begin the landscaping execution phase when you agree on the design, vision, and products to be utilized. We only use the most skilled masons and installers. Our supervisors on-site verify that the work is effectively finished. We can help with softscaping design to create well-balanced outdoor spaces on your property and various hardscapes. We use only the best products and materials to create aesthetically pleasing yet environmentally friendly outdoor environments that give our clients years of enjoyment. Read More About Landscaping >>
Landscape Design
The outdoor areas of your premises are one of the first things that guests and visitors to your home or commercial establishment notice. Ensuring that these areas have the right features and layout is crucial to improving your property's value and appeal. When we plan landscapes for you, we keep your requirements in mind while prioritizing movement flow, practicality, longevity, and durability. We believe landscaping involves much more than installing greenery in the outdoor areas. Plan all your hardscapes well so that the outdoor areas are well balanced and that they provide you with the functionality you require on your commercial or residential premises. Read More About Landscape Design >>
Landscape Maintenance
Once you've created the landscape of your dreams, it's critical to maintain it properly, which is what we offer with our specialized landscape maintenance services. Several package options are available, or you can request a customized plan. This guarantees that you get the services you need at a price that aligns with your budget. Each solution we provide is tailored to your unique requirements, and we place a priority on offering personalized service and particular attention to each customer. Just as home landscaping requires routine maintenance, commercial landscaping must as well. It adds value to the property and creates a positive image with employees, customers, and clients. Read More About Landscape Maintenance >>
Lawn Care
A tailored lawn care plan is necessary to maintain your grass health and appeal. You can keep your turf healthy and weed-free by using the required treatments at the appropriate times, which our specialists can assist you with. We scheduled these treatments for your convenience based on seasons and weather conditions. If you fail to promptly address issues, including brown or barren places on your lawn, you will have an irregular lawn. Effective lawn care is more critical than simply patching up the harm caused by ineffective grass care. Nonetheless, we're here to address any issues in your lawn to get it back to its original condition. Read More About Lawn Care >>
Lawn Fertilization
We provide dependable, on-time, high-quality lawn fertilization at an affordable price for residential and business customers around the area. Before we begin treating the lawn, we examine the soil and grasses present and apply the appropriate materials. We are committed to producing sustainable grounds, which is why our lawn care solutions include only non-toxic, environmentally friendly, natural manure. It guarantees that your lawn remains healthy and that no dangerous chemicals are released into the environment. We schedule fertilizer treatments throughout the year and suggest doing so every six months. Read More About Lawn Fertilization >>
Lawn Aeration
Aeration is among the most necessary lawn management procedures that you must perform to keep the grass in excellent health. When you hire specialists like us, we will examine the soil to establish the degree of compaction and then determine if aeration is necessary. The professionals will use this method to create tiny holes in the ground. It allows water and nutrients to reach the rots, allowing them to grow deeper, stabilizing the grass throughout the year, and your lawn will continue to stay resilient and robust right through the year. The weather, soil condition, and the grass species affect the aeration schedule, and we will plan it suitably. Read More About Lawn Aeration >>
Turf Installation
If you glance at your garden and notice that the grass is in desperate need of attention and detracting from the appearance and feel of your home, it's time to convert your garden/yard. We have extensive expertise in installing lawns and can assure you that you will have grass that is the envy of the neighborhood in no time. While installing your new garden, we will also edge and mulch the area around the trees and bushes. It prevents weeds from infiltrating your flower and vegetable gardens and provides you with the professional-looking lawn you've always desired. We offer high-quality lawn installations at cost-effective pricing. Read More About Turf Installation >>
Mowing & Edging
Well-kept and frequently mowed lawns provide a charming accent to your landscape. When it comes to quality lawn mowing services, it's best to work with established local specialists like us. Our skilled and qualified personnel handle small and large projects with the same speed and efficiency. Additionally, we will manicure and cut the perimeters of all grassy areas, contributing to the overall tidiness of the outdoor spaces. We keep a close eye on them while mowing to ensure that the equipment does not harm any hardscaping features next to the grass. Read More About Mowing & Edging >>
Hardscaping
Hardscapes play a crucial role in the design of business and residential landscapes. While they help define the composition and structure of your landscaping, they are also used to help you explore your garden without trampling on the grass. As with other facets of landscaping, hardscape construction demands a high level of expertise and competence. Our teams of highly qualified designers are up to date on the newest trends in hardscaping. We can also design and install walks, fireplaces, driveways, retaining walls, paths, fire pits, and outdoor kitchens, patios, and decks that last long and add value to your property. Read More About Hardscaping >>
Patio Pavers
We specialize in the design and building of custom patios. Pavers look great, perform well, and are composed of durable materials that need minimal care. Allow us to assist you in converting your property's outside from plain to beautiful using our exceptional hardscaping services. Pavers are available in different materials, including brick, natural stone, and concrete. This range of options helps you find something that meets your requirements and falls within your budget. We are here to help you with your selections, and our staff will handle it all, from patio paver design to area preparation and installation. We provide high-quality, custom paver patio installations at an affordable price. Read More About Patio Pavers >>
Sidewalk Pavers
Sidewalks withstand heavy use, and these installations are continuously exposed to the weather. If you want your surfaces to look great and endure a long time, you require our expertise. Our talented designers create one-of-a-kind ideas and strategies based on talks with you. They also consider sidewalk width and the aesthetics of adjacent installations. It takes skill and ingenuity to develop harmonious and precisely balanced outdoor environments. We guarantee the best solutions at affordable prices due to our decades of expertise in this sector. Our company caters to commercial and residential clients and handles paver sidewalk installations of all shapes and sizes. Read More About Sidewalk Pavers >>
Retaining Walls
Creating usable outdoor areas without retaining structures is difficult if your property has sloping land. When we handle landscape projects, we install retaining walls in such locations. Retaining walls help support soil and earth while constructing a flower bed, a yard, a deck, patios, an outdoor kitchen, and more. We build these walls using rock, brick, boulders, blocks, or even wood. After examining the area and determining the functionality required, the team proposes appropriate materials. Our crew has experience working on a variety of hardscaping projects and can manage your retaining wall build efficiently. Read More About Retaining Walls >>
Sprinkler Systems
Automatic irrigation devices are one of the most effective methods for watering your landscape at regular intervals. Irrigation installation requires considerable forethought, and that's where we come in. Our team will assess the areas before developing a feasible strategy. When irrigation system design is included in a more significant landscaping job, it becomes simpler for us to construct a cost-effective irrigation network. We also perform irrigation renovation projects for residential and commercial customers with new landscape sprinkler systems. We use modern, high-quality goods and adhere to industry standards throughout the installation. This approach and high-grade materials give you superb sprinkler system installations. Read More About Sprinkler Systems >>
Sprinkler Repairs
Having a well-designed irrigation system provides you with peace of mind, as you are no longer responsible for the frequency and timing of watering your plants and lawns. However, it becomes as critical to maintain these systems properly. We offer high-quality maintenance services and assist clients with sprinkler repair. If we manage these systems and the crew discovers a flaw, they will tell you about it immediately. If you find any system's elements are not operating correctly, or if you see a break in a pipe or fractures in the valves, please notify us immediately. We will send our experts to your property for timely and expert repairs. Read More About Sprinkler Repairs >>
Turf Weed Control
Many homeowners struggle to keep weeds under control in their landscapes because the spores of these aggressive species move rapidly via the air, landing in several locations. People soon notice that weeds have overrun their gardens, flower beds, and other outdoor spaces. When you contact knowledgeable specialists like us, we will meet your weed control demands and address them according to industry standards. Clients often choose landscape care packages that include weed control. We know from experience that prompt action helps prevent weeds from spreading across your area. Weed management treatments are an excellent way to keep your lawn weed-free and healthy. We offer these services to commercial and residential clients. Read More About Turf Weed Control >>
We provide a comprehensive variety of landscaping services, all under one roof. We have the ability, knowledge, and expertise to properly design and construct a range of outdoor features on your property. With our assistance, your outdoor areas will be beautified and appear more lovely all year. We have excelled in all parts of landscape architecture, planning, and execution throughout our years in the industry. Our team consists of highly skilled and creative individuals capable of creating stunning features for the outside of your property. Each project is completed with the highest quality materials, ensuring a visually beautiful and low-maintenance outdoor environment. We achieve the optimal balance of reliability, quality, and price, providing our clients with excellent value. For more information about our landscaping services, please call Valley Lawn & Landscape at 541-213-1563. You can also write to us through this Online Form for more details.
We Provide Services to the Following Cities, Towns and Surrounding Regions of OR: